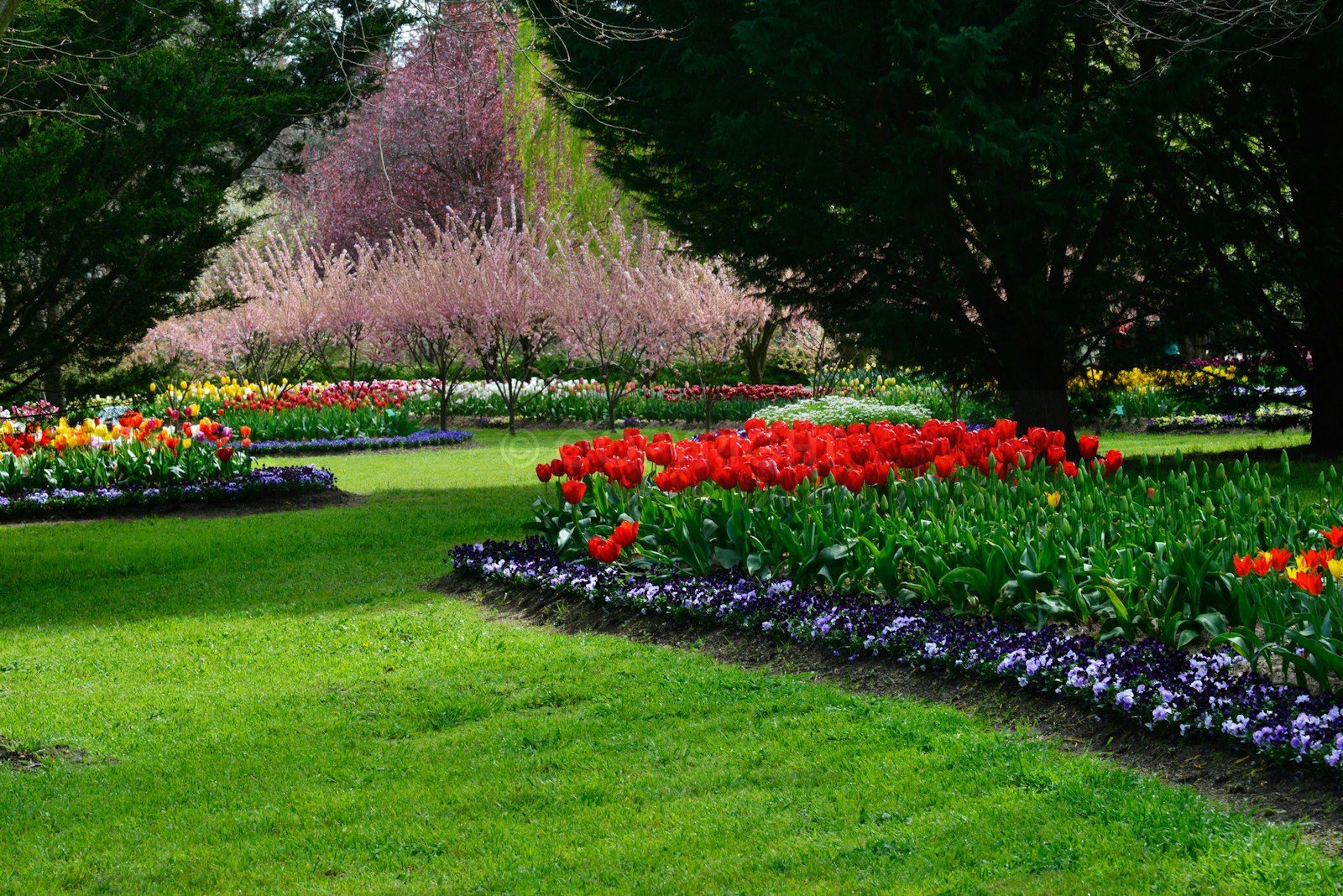 Just outside Canberra on the Federal Highway, is a springtime visual delight. It is held annually, usually from the middle of September to mid-October. The outstanding difference between these gardens and some other floral displays, is the emphasis on relaxation, and an unhurried enjoyment of the manicured lawns, stunning and tasteful layout of richly coloured flower beds, amid established conifers, weeping willows and a mass of flowering trees showing off their blossoms in rich reds, gentle pinks and exquisite whites.

Yes, this is an oasis for enjoyment, not just from what you see, but also what you hear. There are many speakers mounted in the branches of many of the trees, from which you are serenaded by popular classical music. The volume is not intrusive - it does not have to be. The large number of speakers allow the music to be just that - "background". It can be soft, but you can still hear it everywhere. This sets the mood in a subtle but effective way.
As you wonder through the Gardens, enjoy what nature offers for your delight, and for the delight of precious bees. Enjoy the comfort of dappled sunshine, and welcome trees. Enjoy the light chairs you can place where you find it most comfortable for yourself.

The facilities are placed tastefully around the eastern perimeter, where food and drinks, including "barista" coffee, are available. The prices are moderate, and the Dutch Pancakes are alone adequate reason for coming here!!

Yes, there is a moderate admission fee, but it is well-worth it. Here you can plan what you may wish to do in your own garden in the following year, or you may just allow yourself to be imbued by the vista in front of you. No, you will not be troubled by the disturbing intrusion of the ubiquitous garbage bins, nor will you be jarred by commercial marquees, nor by a Ferris wheel.
Yes, you will walk away amazed by the vast range of flowers, many of which are a supporting cast for the magnificent array, sizes and colours of the regal Tulips. The varieties are staggered so that some open early in the season, and some will tease you to come back a second or a third time, as they promise to open a little later. There will therefore always be a colourful display right through the 4 weeks of this lovely event. Season tickets are available and priced well if you are likely to come more than twice.

You can see my selection of images on www.artphotosbygeorge.com and navigating through "Portfolio"/"Nature"/"Tulip Top Gardens", or you can also see what was posted on my Facebook profile under the name "George Brzostowski SC" or on my Facebook Page.